We are well into the first year of the supported version of Red Hat BRMS 6, and it is seeing a great level of adoption. When considering moving to or updating to this version of the platform in your enterprise, here are some things every IT Manager should know.
1) Version 6 Has Separated the Rules and Processes
If you are familiar with version 5 of the JBoss BRMS suite, you are accustomed to there being only one product that handles both the Rules and Processing. In version 6, there are 2 separate products: one that includes features for supporting processes (JBoss BPM Suite) and one without (JBoss BRMS). Both products support the basic Rules Authoring, Rules Runtime, Complex Event Processing (CEP) and a technical preview of the upcoming planning engine (JBoss Business Resource Planner).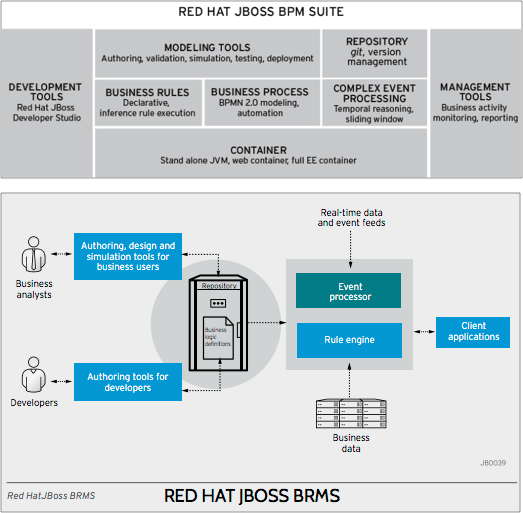 2) JBoss BRMS/BPM Suite Provides a General Tool Set
There are some rules and processes products that are domain specific that require very little technical skills. These tools quickly solve problems as long as you color within the lines, and can be burdensome when a little off roading is necessary. The JBoss BRMS and JBoss BPM platforms take a more generalized approach to building a solution, which means more work upfront, but in return you get greater flexibility and a higher chance of getting what you want.

3) Successful Solutions will Require Both Analyst and Developer Buy-in
Although the end result will be a software system that has the business analysts in the driver's seat, there is upfront work to do. When approaching a problem, the analysts should have a good idea of what parts of the system they wish to be in control of, and be available to the developers during the implementation. This allows the developers to correctly decompose the problem and construct a domain model that will ensure a successful solution.

4) The Power and Agility Gained can be Addictive
Once the analysts gets the keys to BRMS based solution, the first thing they want to know is, when can they migrate the next one. Separating the business domain logic from the low level application code lets everyone concentrate on solving the types of problems they are good at solving. Furthermore, by not being buried in the code, the logic can be inspected and tested by all interested parties rather than considered a black box. We have witnessed more than one occasion where a heated debate is sparked by having the group witness the exposed logic for the first time.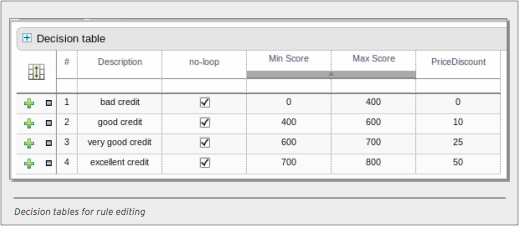 5) There is Great Flexibility in Deployment Options
Want to only release a precise version of the rules and processes that match a precise version of your application? Want a rule session embedded in your application that can automatically pull in newer definitions from Maven? Want to execute the rules in BRMS as exposed by a web service? Want to integrate with a SOA solution? The BRMS/BPM suites have you covered, giving you a wide array of options for integrating the rules into your systems.

6) Out of the Box Integration with Maven and Git
JBoss BRMS 6 uses Git internally to manage the development of your rules projects and affords easy integration into your development lifecycle. It uses Maven to handle the dependency management and means of publishing build artifacts. This can easily be tied to your enterprise repository (e.g., Nexus), making it a good citizen in your DevOps toolchain.

Summary
And there you have it… hopefully, you have found this list helpful when considering Red Hat BRMS 6 as a part of your next solution. Stay tuned for more thoughts on rule engines and processes in the enterprise...
Do you have a requirements for a business rules or process management platform? Request a complimentary consultation with one of our experts today.