**We've since released an updated version of this demo, along with an accompanying blog post, which can be found here.**
On July 14th Vizuri delivered a webinar entitled, "Driving Dynamic Questionnaires with JBoss BRMS: An Insurance Use Case."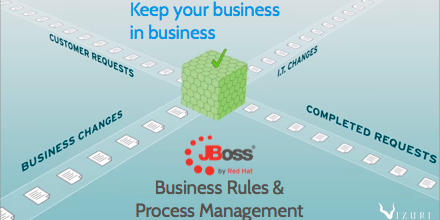 During the webinar we demonstrated a dynamic, rules driven online questionnaire being generated by JBoss BRMS. For the example use case we modeled an online homeowners insurance policy questionnaire that collects data, evaluates answers, and generates subsequent questions to capture all information necessary to provide a quote for homeowners insurance.
You can access the webinar and related resources on-demand using the links below (please leave a comment and let us know what you think!):
Topics we discussed and demonstrated during the webinar include:
What makes business rules a compelling solution strategy
Common business use cases for BRMS dynamic questionnaires (e.g. insurance, finance, healthcare, etc.)
How to create a repository for creating, updating and managing business rules
How to build a dynamic rules-based questionnaire engine
When to apply different types of rules (e.g. guided, domain specific language, decision table, guided rule) to a business case.
Are you considering a BRMS implementation? Check out our BRMS and BPM Services
here
. We offer complimentary one hour consultations and would love to hear from you.
Click here
to request one.