Red Hat CloudForms provides a powerful analysis engine for Cloud environments. However, you may be surprised to learn that it's also possible to run CloudForms in internal environments. Running an internally hosted VMware environment efficiently can reduce your overall costs by using hardware you have already paid for.
In this tutorial, I will take you through configuration options for CloudForms analysis on VMWare. To follow along, you will need a VMware VSphere environment connected to CloudForms.
Login to your CloudForms appliance and go to "Configuration"

Now go to CMFE Region-> Analysis Profiles-> sample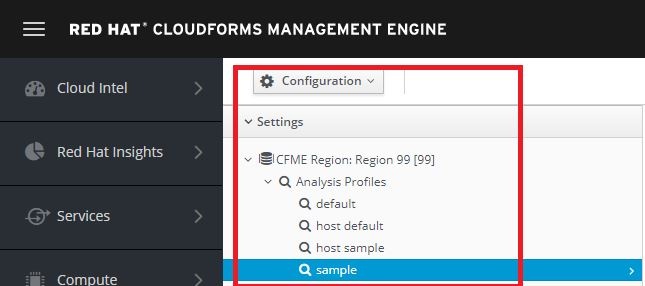 Click on the "Configuration" drop down again and then "Copy this selected Analysis profile"

I will call mine "MY_VMware-analysis" for the purpose of this blog.
Let's look at some of the things we can configure.
Click on the "Configuration" tab once again and select "Edit this analysis profile"

You can customize the information collected here. For example, if you know you
will
never run a Windows Server, you can remove the "c:\windows*" path as seen here in the red box.
Conversely, you can remove the "/etc*" entries if you don't run any Linux. You can add or remove any custom paths from this screen. Under the "event log" tab, you can also grab the the Event logs from your Windows boxes.
To set the collection schedule, highlight the "Schedules" dropdown, click on the "Configuration" tab and select "Add a new Schedule"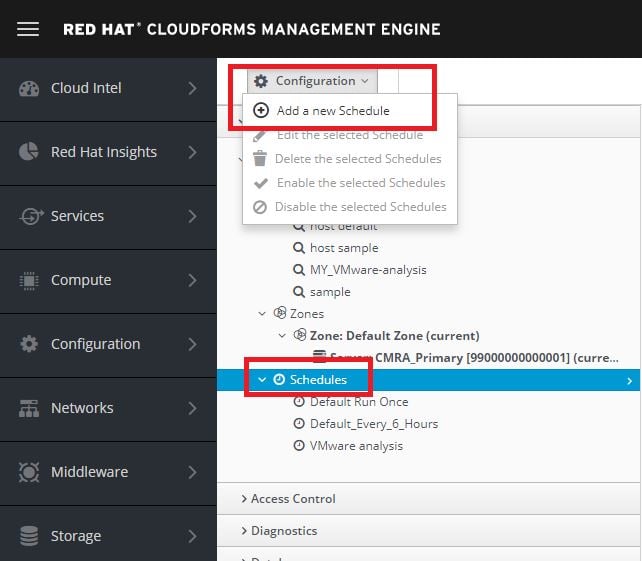 Add a new Schedule and ensure the check box "Active" is checked. You might want to uncheck the "Active" checkbox on any of the other default schedules that exist.
Finally, be sure to also configure your time, the frequency that you want to run this job, and the starting date and time.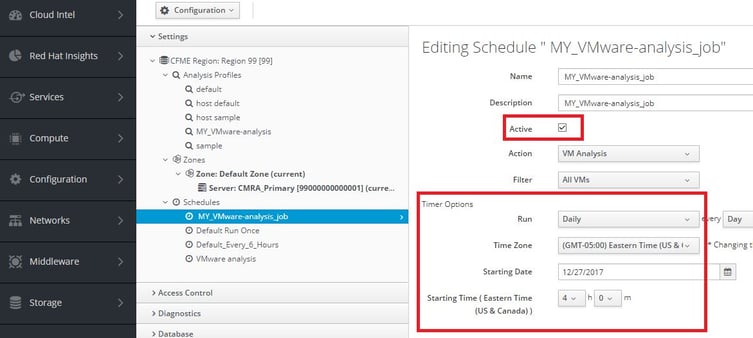 Do you have any questions? Please reach out to us if there's anything I can expand on here, or if you'd like to talk through your specific use cases.