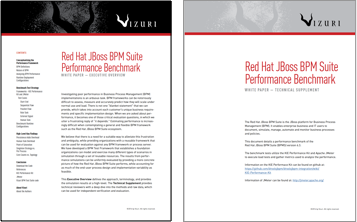 Vizuri recently developed a performance test framework for Red Hat's JBoss BPM Suite. The JBoss BPM Suite enables enterprise business and IT users to document, simulate, manage, automate and monitor business processes and policies. It also includes JBoss BRMS, Red Hat's integrated, business event and business decision management platform.
JBoss BPM Suite Performance Benchmark
Along with the test framework, we have published an Executive Overview as well as a Technical Supplement. Click here to learn more about the performance benchmark, and access the complete report, source code for the test framework, and other related resources.
Data Explorer
We also have developed an interactive Data Explorer to allow exploration of the results. The Data Explorer can be accessed here.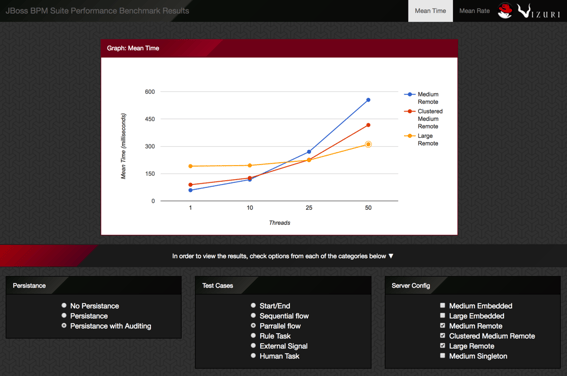 About Vizuri
Vizuri is an award winning expert consulting firm specializing in JBoss Middleware. We are proud to be a Premier Red Hat partner, and believe that our experience, expertise, and focus on customer satisfaction is second to none.
Our dedicated JBoss Business Rules and Process Management practice has delivered on a wide range of consulting engagements including migrations, custom training courses, best practices mentoring, installation and configurations, tracer bullets, and proofs of concept.
Are you looking for an experienced JBoss Middleware consulting firm? Click here to schedule your complimentary one hour consultation - we'd love to hear from you.