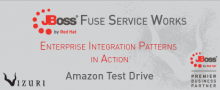 We are excited to announce the availability of our JBoss Fuse Service Works Amazon Test Drive. For those of you that have not yet heard of AWS Test Drives, they provide an easy way for you to try out various software solutions in a preconfigured, private IT sandbox environment. You can read more about the AWS Test Drive program here.
Our JBoss Fuse Service Works Test Drive is the first in a series of Test Drives that will detail practical implementations of Enterprise Integration Patterns (EIPs) utilizing the Fuse Service Works platform.
The following Enterprise Integration Patterns are featured in this test drive: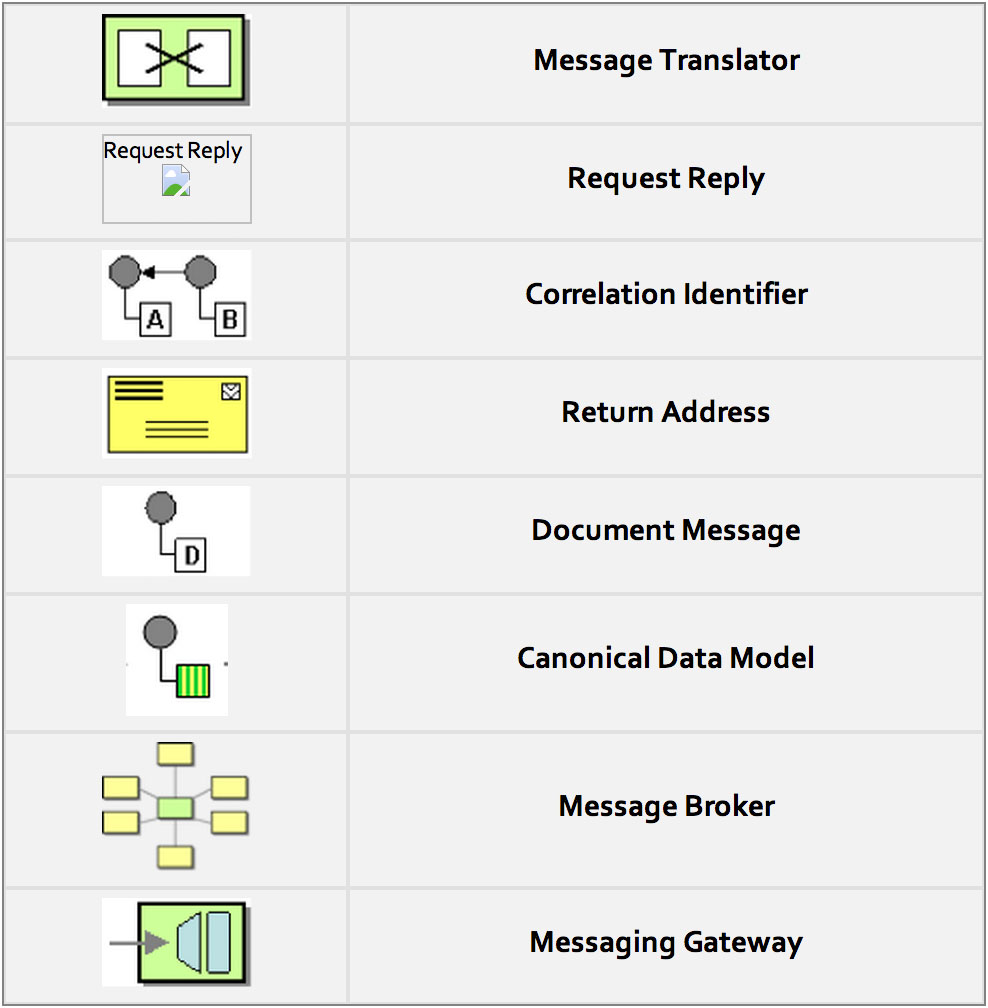 Integration of Disparate Apps: Across the Enterprise and Beyond
We know that modern businesses often have many applications that need to communicate seamlessly including packaged, legacy, and custom built applications, cloud services and other systems. We build this test drive around a retail scenario, as it is especially common in a retail environment to have many functional systems from different vendors that need to communicate with each other. The approach we demonstrate to meeting this requirement, however, is not unique to retail and can be applied to a wide range of businesses and industries.
In the Test Drive, we will demonstrate the following systems and the integration between them.
Order Management System (OMS) - The OMS is responsible for providing order and inventory services.
eCommerce – The eCommerce system is responsible for placing orders over the Web and from mobile devices.
Point of Sales (POS) – The Point of Sales system is responsible for placing orders at retail locations.
EDI - The EDI system is responsible for taking bulk order via EDI files.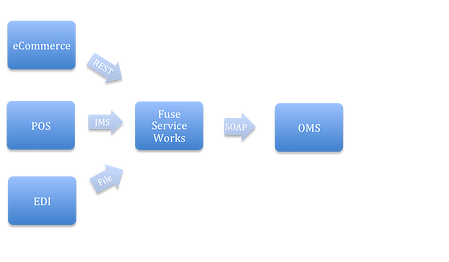 In the Retail Test Drive scenario, we have an Order Management System (OMS) that exposes SOAP Web Services.
The OMS provides two operations:
CreateOrder – Creates a new Sales Order on the OMS System.
OrderDetailInquiry – Allows systems to query details about orders.
Each application that needs to communicate with the OMS would like to use a different protocol and message format:
eCommerce – The eCommerce system needs to communicate with a REST Web Service passing a JSON payload.
POS – The Point of Sales system would like to communicate utilizing a Request/Reply pattern over JMS using an XML payload.
EDI

– The EDI system would like to drop a file in a folder in EDI format.
In the Test Drive, we will demonstrate how Enterprise Integration Patterns implemented utilizing the Fuse Service Works platform and tools can easily solve this integration problem.
Fuse Service Works Overview
JBoss Fuse Service Works is Red Hat's middleware solution for application integration, messaging, SOA, and service governance requirements. It combines the core ESB technology from JBoss Fuse and technical innovations from popular open source communities like SwitchYard and Overlord.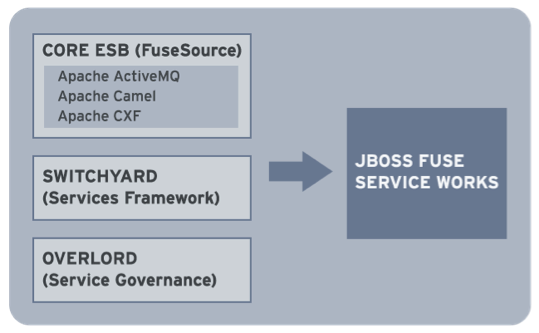 More information on Fuse Service Works can be found at the following websites.
Enterprise Integration Patterns Overview
The book "Enterprise Integration Patterns" by Gregor Hohpe and Bobby Woolf provides the vocabulary and visual notation to describe large-scale integration solutions across implementation technologies. The book details 65 integration patterns.
To lean more about Enterprise Integration Patterns refer to the book or at the following location.
Launching the Lab
From the main test drive screen, you will be able to access the different labs that are available to run. These will be accessible after you login in to your home page on the Test Drive site.
From there, click the Test Drives button to see the list of available labs.
If you have any trouble getting started, or would like to schedule a one-on-one demonstration or discussion please let us know.