One of the primary challenges CIOs and IT organizations face as they modernize is supporting existing applications while optimizing old ones and creating new ones.
By adopting Red Hat Runtimes, you can help your organization meet this challenge. We are encouraging all of our JBoss EAP clients to adopt Red Hat Runtimes due to the increased value they add for no additional cost. Read on for more information about Red Hat Runtimes, reasons why you should consider them, and tips on adoption.
What is Red Hat Runtimes?
Red Hat Runtimes is a recommended set of products, tools and components to develop and maintain cloud-native applications. It offers lightweight runtimes and frameworks for highly-distributed cloud environments such as microservices, with in-memory caching for fast data access, and messaging for quick data transfer supporting existing applications.
Red Hat Application Runtimes provides best-in-class integrated products, tools and components necessary to create cloud-native applications while speeding up their development and delivery.
Non-Restrictive Development for the Hybrid Cloud

image via Red Hat, Inc.
What are some ways Red Hat Runtimes can help me?
Are you tired of paying royalties to Oracle for Java support? Do you want to implement a Data Grid to access, process, and analyze data, or an AMQ message broker? You can do all of that and more with a Red Hat Runtimes subscription:
Includes other runtimes that support microservices development, including support for reactive programming, Spring Boot, MicroProfile, and Node.js.
Many organizations are leveraging a mix of these modern runtime frameworks. With Red Hat Runtimes you can choose the the right tool for the right task. Instead of relying on community open source for maintaining these environments, you'll have the ability to patch and update them through Red Hat certified repositories. You'll also receive technical support.
Facilitates faster development and agile development methodologies.
Due to its integration with Red Hat OpenShift Container Platform, Red Hat Runtimes provides developers with a self-service platform for provisioning, building, and deploying applications and their components. It integrates with continuous integration and continuous delivery (CI/CD) tools like Git, Maven, and Jenkins. It also provides intuitive tooling to securely streamline Kubernetes workflows and enable application load-balancing and auto-scaling capabilities with policy-based control and automation.
Want to learn about CI/CD and DevOps automation? Check out the Vizuri DevOps Service Catalog.
Red Hat Runtimes also includes a number of missions and boosters, such as creating HTTP application programming interfaces (APIs), interoperating with a database, or implementing the health check pattern to speed up application development.
Simplified development and deployment of containerized applications, including to Red Hat OpenShift.
Red Hat Runtimes reduces the complexity of developing cloud-native applications by integrating OpenShift capabilities with the programming model of multiple runtimes, including service discovery, external configurations, and circuit breaker or fault tolerance.
Use Cases for Red Hat Runtimes
From WAS/WLS or Tomcat, on and off OpenShift
99.99% compatibility, container-optimized
Embrace and extend Spring apps with OpenShift/Middleware integration
Support the move from Java EE to Spring, MicroProfile, Node.js
Async architectures based on runtimes, extending to Middleware Services
Combine Runtimes with Data Grid
Support modern architectures with tried-and-true messaging
On-prem and Cloud, avoids vendor lock-in (AWS)
Red Hat Runtimes: Included Platforms and Tools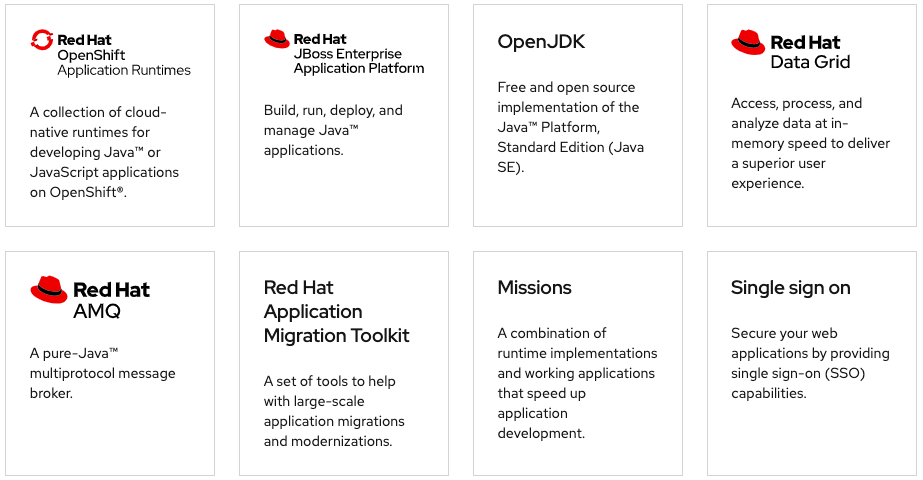 image via Red Hat, Inc.
update: new features have been added to Red Hat Runtimes. Learn more about them here.
How is Red Hat Runtimes priced if I already have JBoss EAP?
Red Hat Runtimes subscriptions are exactly the same price as JBoss EAP subscriptions. If you have existing JBoss EAP subscriptions we can convert them to Red Hat Runtimes subscriptions for no additional charge when you renew. There is no disadvantage to doing this. You'll still receive the same support for JBoss EAP that you were previously, including extended life-cycle support (ELS) via the ELS add-on (if applicable). We can also convert your existing EAP subscriptions to Red Hat Runtimes when you purchase new subscriptions.
If you'd like to convert your existing JBoss EAP subscriptions to Red Hat Runtimes prior to or independent of your renewal we can do that as part of a purchase of new Red Hat subscriptions (contact us for additional details).
How can I purchase Red Hat Runtimes if I don't have JBoss EAP?
If your organization does not have an existing JBoss EAP subscription but would like to take advantage of some of the other platforms, features, and runtimes provided and supported through Red Hat Runtimes, simply contact us to discuss purchasing new Red Hat Runtimes subscriptions.
As a Premier Red Hat Partner, Vizuri can provide the highest levels of discounts when you contact us first. We have the experience and expertise to provide insights based on your specific needs, including in-house certified subject matter experts. We also offer expert consulting services, mentoring, and custom training to help you make the most of your implementation.
Would you like to discuss your Red Hat subscriptions? Reach out to us here or get in touch with your Vizuri account manager to get started.
Would you like to discuss your Red Hat subscriptions?