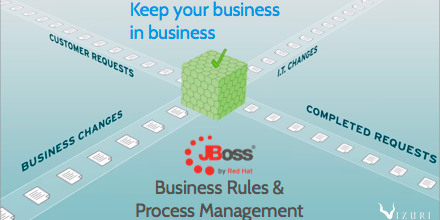 In a wide variety of industries software is becoming central to how businesses drive value to their customers and gain market share from their competitors. Applications, and the environments in which they run are also more complex, dynamic and distributed than ever before. To keep up with the demands of the business many IT organizations are turning to business rules management systems (BRMS) and business process management (BPM) software in order to reduce complexity and increase agility by separating critical business rules and processes from the code or back-end database that implements them.
Check out the video below from our recent DC JBug meetup to learn how to unlock the power of business rules engines and business processing for your development projects. In the video Red Hat's Eric Schabell will take you through it all step-by-step: building rules, domain specific languages, using the wizards and editors that the JBoss BRMS & BPM Suite provide to create your own rules or process project. Attendees had a choice in this workshop between an online web shop project or an HR employee rewards process project.
This video takes you from scratch to a fully working rules or process experience with JBoss open source software. Eric used the bpmPaaS on OpenShift for these exercises.


We also broadcast these monthly events live via Google Hangouts On Air. Join the DCJBug Meetup and catch our next presentation as it happens! You can also see the slides on Eric's blog.