Joe Dickman, the founder of Vizuri, attended the Inc. 5000 Awards Gala last week on behalf of our parent company AEM Corporation.
The prestigious award from Inc. Magazine celebrates the rapid growth of the company over the last 4-years. In fact, AEM ranks #2973 among all privately held companies in the U.S., and in annual revenue, it ranks #18 among software companies on the list.
As AEM's private sector consulting group, Vizuri has been an integral part of that growth as it supports an array of Fortune 500 companies—with special focus on the healthcare and insurance industries. We are proud to join companies we admire, such as Microsoft, Intuit, and Oracle, as recipients of this recognition.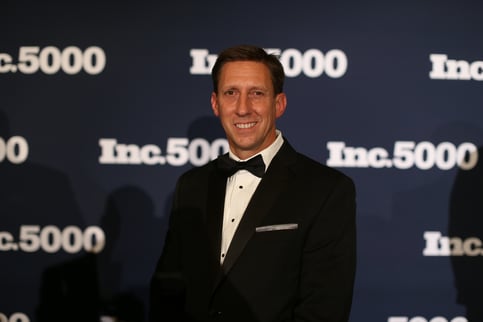 Joe shared his thoughts about what made this recognition possible, and what this means for Vizuri's work in the future:
"This recognition of our recent growth is a new and welcome validation of our ability to work on complex engagements, consistently deliver results on schedule, and measure clear return on investment. We're grateful for the support of our partners like Red Hat, and our clients who continue to trust us with the new challenges they face.
Through our technologies and understanding of client's business processes, I want our business to continue to be defined by the real-world contributions we make. That's my driving goal for each new engagement."
Started in 1982, this list of the nation's most successful private companies has become a key recognition of entrepreneurial success. The Inc. 5000 Conference & Awards Ceremony is an annual event that celebrates their achievements.
"The Inc. 5000 list stands out where it really counts," says Inc. President and Editor-In-Chief, Eric Schurenberg. "No one makes [the list] without building something great."