We are proud to announce that Vizuri has been named the New Solution Success Partner of the Year by Red Hat, Inc., the world's leading provider of open source solutions, for the development and success of the insurance underwriting solution framework we brought to market last year. This award is part of the annual Red Hat North American Partner Awards, which aim to honor partners for continued efforts to support customers on the path to IT modernization.
Our underwriting solution framework helps insurance companies build new business by accelerating application turnaround and setting the foundation for a sustainable incremental modernization approach. It leverages Red Hat Process Automation Manager and Decision Manager to set insurers up for faster approvals based on their institutionalized business rules and risk tolerances. Our solution is the first of its kind in that it offers customers a way to streamline their underwriting while setting the foundation for incremental modernization with modern software architectures.
As one example, a Fortune 100 customer reduced their application turnaround time by 80% and saved millions of dollars in operating costs to expand their books of business with Vizuri's solution framework.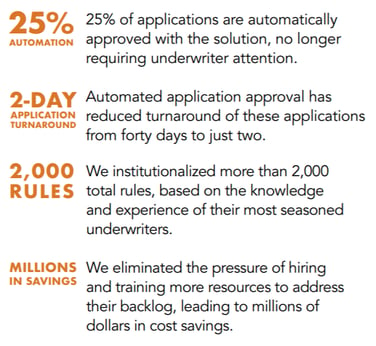 We are proud to add this accomplishment to our ongoing record of recognition from Red Hat, including 2018 Commercial Leading Edge Partner of the Year and 2017 North America Partner of Excellence. We earned these awards for our unique combination of industry experience, technical prowess, and commitment to the open source community.
Vizuri merges deep industry knowledge with expertise in Red Hat enterprise open source technologies. This allows us to uniquely offer the benefits of open source at enterprise scale to meet specific industry needs. Learn more about how we work here.