This fall, Vizuri was pleased to be recognized as a member of the Inc. 5000 for the second year in a row. The award from Inc. Magazine notes the rapid growth of privately held companies over the last 4-years.
As the commercial consulting division for AEM Corporation, Vizuri combined with other divisions to rank #4241 this year among private companies in the U.S. That reflects a drop in the ranking from #2973 in 2016.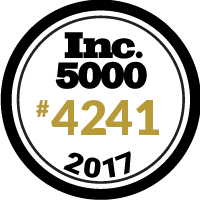 The Vizuri division actually experienced its most successful year in 2017, reflecting repeat clients, new referrals, and sustained interest in its core practice areas from clients in health and insurance industries.
Joe Dickman, founder of Vizuri, shared his thoughts on this recent success:
"In response to our recognition last year, I noted that I wanted our business to continue to be defined by the real-world contributions we make. I'm pleased to see that our work has held up to this standard. We've won some major awards, published new solution briefs and white papers, and expanded our list of case studies. I'm excited to see what 2018 brings for our practice."
Inc. President and Editor-In-Chief, Eric Schurenberg, noted this year for all recipients: "...determination, risk taking, and vision were the keys to their success."
Thanks again to Inc.!