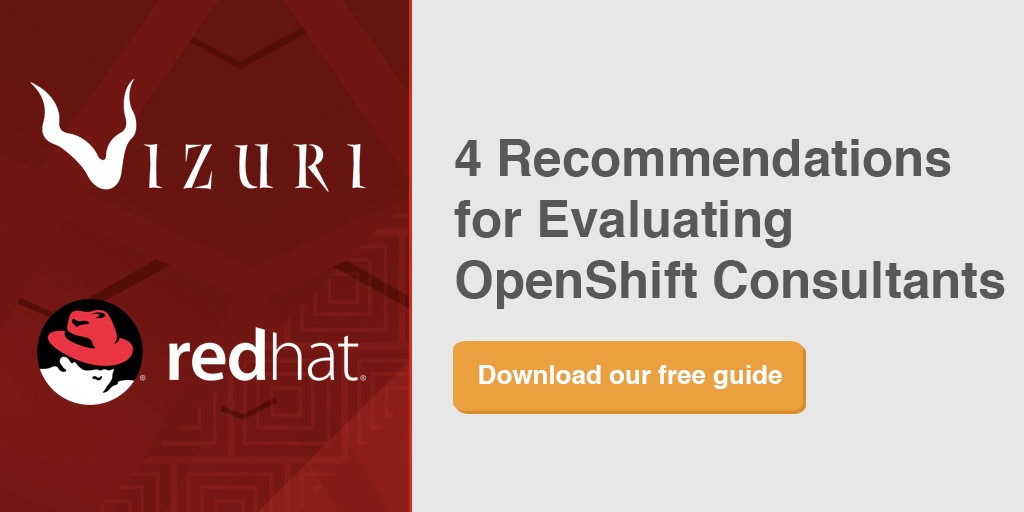 Vizuri is committed to publishing code and content that helps to advance the open source community. We are proud to share a new addition to our content library this week: 4 Recommendations for Evaluating OpenShift Consultants.
The following is an excerpt from that free guide, now available for download:


...we suggest that you evaluate for two separate skillsets for OpenShift: infrastructure and application. Our experience has demonstrated that both are important.
Infrastructure Skillsets
Infrastructure focuses on full automation for the installation in environments such as VMWare or AWS, using Ansible and related automation tools.
Infrastructure experts tend to have the following foundational skillsets:
Fluency in Linux, Apache httpd, DNS, LDAP, PHP, Load Balancing, TCP/IP, Bind, and SMTP

Familiarity with a scripting language such as Bash, Perl, Python or Ruby

Experience with high availability infrastructure setups, particularly clustering and load-balanced production RHEL environments

Experience in virtualization technologies such as KVM, RHEV, Vmware or Xen
Read More